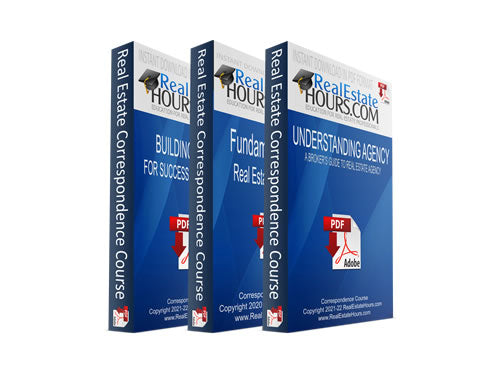 21 Clock Hour Broker Renewal Course Bundle NO CORE/NO FAIR HOUSING
---
We offer this 21 clock hour bundle in the event you have completed your Current Issues "CORE" and your 6 clock hour Fair Housing for this renewal period.
This bundle of courses simplifies your license renewal, supplying all 21 clock hours you need for WA State Department of Licensing re-certification! This bundle of courses is designed to make it more cost-effective than ever to get back to business. Already completed your 2022-2023 Current Issues in WA. Residential Real Estate (CORE) and your 6 clock hour Fair Housing course? Then this bundle is the perfect choice for you!
Is This The Right Broker Renewal Bundle for You?
If you meet the following criteria, this is the Washington State continuing education broker renewal bundle for you.
Do you need to complete only 21 clock hours of continuing education?

Have you already completed the state mandated 6 clock hour Washington Real Estate Fair Housing course?

Have you already completed the Current Issues in Washington Residential Real Estate (CORE) 2022-2023 course?
Why Should You Choose a RealEstateHours.com Broker Renewal Bundle of Courses?
Incredible value at an unbeatable price!

The quickest, most streamlined way to finish your 21 clock hours!

Study the courses in the comfort of your home or office! 

Courses are mobile friendly, take on vacation or anywhere

No need to worry about a final exam - this bundle includes a stress-free way to renew!

No timer tracking

High-caliber content

Expertly-trained, state-sanctioned instructors/authors


Our friendly professionals provide expert support!

State-certified institution

State-approved courses

Washington State owned and operated business

Shop local and select us for your needs!
Courses Included in this Bundle:
Building Blocks for Success in Real Estate - 15 Clock Hours
Introducing the Certified Washington State 15 Clock Hour CE course: "Building Blocks for Success in Real Estate." Tailored to meet the needs of brokers in the contemporary Washington state landscape, this comprehensive program addresses pivotal aspects crucial to success.
Encompassing a wide spectrum of topics, the state approved CE course navigates through essential areas including business practices, property management, risk mitigation, contract dynamics, and strategies for optimizing home presentations. With a focus on practicality, the 15 clock hour course is enriched with detailed insights and illustrative examples, empowering brokers with the skills to adeptly manage diverse scenarios in a professional manner.
Read more about the Building Blocks for Success in Real Estate course
Understanding Agency: A Broker's Guide to Agency in Real Estate - 3 Clock Hours
Our accredited continuing education course, spanning 3 clock hours in Washington State, is designed to comprehensively delve into the realm of agency understanding. Delving into the very essence of agency theory, this CE course offers a profound grasp of the subject and is indispensable for every broker operating within Washington State.
In addition to equipping you with an in-depth comprehension of agency theory, this state certified course meticulously navigates through the intricacies of NWMLS forms and documents that exert influence on agency. Moreover, it presents an intricate exploration of the legislative framework governing agency within Washington State. This is complemented by a wealth of insights into the practical application of these laws within the context of being a real estate broker.
By enrolling in this 3 clock hour accredited course, you are arming yourself with invaluable knowledge that not only enhances your understanding of agency but also empowers you to navigate its nuances effectively in your role as a real estate professional.
Read more about the Understanding Agency course
Fundamentals of a Real Estate Brokerage - 3 Clock Hours
"Fundamentals of a Real Estate Brokerages" is an accredited Washington State CE course that spans 3 hours, offering a comprehensive examination of brokerage structures and the diverse array of brokerage models prevalent in Washington State.
Presented in a user-friendly format, this certified 3 hour course serves as a trusted guide, furnishing expert insights across a spectrum of considerations vital to brokers. From essential decision-making factors to intricate nuances, this course equips you with an encompassing understanding to make informed choices in your brokerage journey. Moreover, it delves into the intricate landscape of licensing and regulatory prerequisites associated with establishing your own brokerage firm.
Read more about the Fundamentals of a Real Estate Brokerage course
---
Share this Product